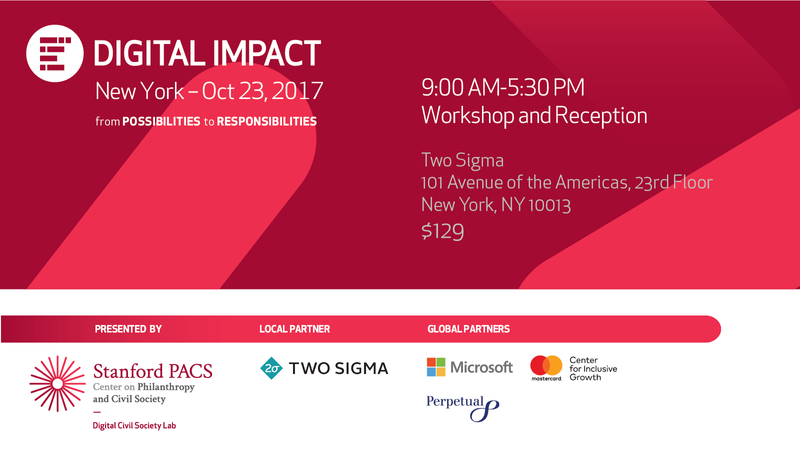 Digital Impact - New York City
The Digital Civil Society Lab at the Stanford Center on Philanthropy and Civil Society is exploring the implications of the digital age for global civil society. We are applying that knowledge to build a universal framework for civil society to use digital resources safely, ethically and effectively.
You are invited to join the conversation at this one-day event which will explore best practices and pressing questions about the future of digital civil society and democracy - in New York City and around the world. .
Agenda:
Welcome

Setting the stage for a conversation to share ideas and experiences, build community, and inspire new research and tools to advance digital civil society.
From Possibilities to Responsibilities

A global look at how social sector organizations can pursue the opportunities of digital data while understanding and addressing the risks, presented by Lucy Bernholz and Andrew Means.


Digital Dependencies

An interactive discussion on the new possibilities created by digital data and infrastructure for working across sectors and the demands that these relationships entail. Moderated by Lucy Bernholz.

Data and Philanthropy

A conversation about the intersection of data and philanthropy, including current trends in "data philanthropy," data that allows us to analyze philanthropy, and digital tools that make new philanthropy possible.

Inventing Digital Organizations
A curated round of presentations highlighting emerging and innovative organizational forms, collaborations, or governance models enabled by digital data. Moderated by Andrew Means.
Reflections

A mid-day assessment of key learnings and what is next.
Considering
Bias
A conversation with Andrew Means about the role of bias in data and algorithms, strategies for addressing these biases, and the broader implications for civil society.
Digital Civil Society and the Future of Democracy

Small group exercises about trends in digital civil society, facilitated by Lucy Bernholz and Andrew Means.
Closing Reflections

A review of key ideas and insights and commitments to next steps with Lucy Bernholz and Andrew Means.
Reception
Digital Impact - New York City is presented by the Digital Civil Society Lab at the Stanford Center on Philanthropy and Civil Society. Special thanks to our global partners Microsoft, Mastercard Center for Inclusive Growth, and Perpetual, Ltd.
Learn more about the Lab's global series of Digital Impact events at
www.dataworldtour.org
.
For questions and to inquire about scholarships, please contact hello@digitalimpact.org.
REGISTER